About Aeroyoga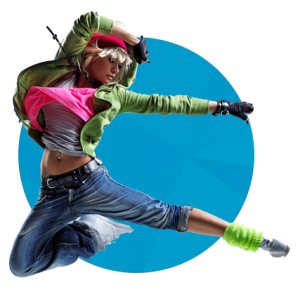 Aeroyoga, that's all it takes to get into the groove with the most versatile dance and fitness academy in Delhi established in the year 2008 by Mr.Deepak Kumar Taank. He is very much renowned dancer not only in Delhi but also on the National level. Aeroyoga team work under the guidance of him. So, we can assure you that you will get the right training under the guidance of the right team.
In today's world, dance and fitness play an important role where lots of activities going on. That's where Aeroyoga outshines the rest. "A CLASS APART", in the very heart of Delhi, an accomplished dance and fitness studio enriched in teaching, nurturing, and producing the finest dancers in its various dance format of all age groups.
Since its origin, Aeroyoga had molded and trained its students with the various dance formats on par with the international standards. Making it as one of Delhi's finest Dance and fitness studio with a goal to strive, perseverance, teamwork, dedication, sacrifice with its fun-loving ambiance are the core principle.
Our Mission
Our mission is to instill a great love of dance while inspiring self-confidence, discipline, and respect of the performing arts. We provide a solid technical foundation for the developing dancer. We advocate training of foundation to instill an awareness of poise, alignment, and technique. We appreciate that the heart of a dancer is born into many different bodies and the love of dance can take on many different styles.
We will develop well-prepared dancers, who can choose to pursue the arts professionally. Once a dancer always a dancer. Dance is something students can come back to during all stages of their life. We will urge each student to strive daily for their personal best, as well as to support one another in fostering a sense of teamwork in the classroom. It is clear that the discipline, focus and artistic enlightenment of dance creates success in all aspects of life. Dance education contributes to the development of responsible, dedicated, determined, and creative adults in society.
Our Goal
Our goal is to give each individual dancer the tools they need to take dance as far as they dream to take it. We believe if you can dream it you can achieve it! Aeroyoga believes in to provide quality dance instructions and a positive energetic teaching approach to dancers of all age. Aeroyoga looks forward to opening up new avenues of creativity and fun through encouragement and self-confidence. It is our pleasure to serve the community the beauty of joy of movement through the art of dance…this experience we are sure will remain with your thoughts transferring your lifestyle permanently.
Our Instructors
We provide classes for every age group and all formats of dance. So just choose the style you want. Our instructors are skilled at identifying the specific needs of each student. We believe in an enriching education and we recognize that every student has something to offer the arts and the arts has something to every student. And our instructors teach you all the dance forms including Zumba, Freestyle, Bollywood, Hip Hop, Contemporary, Folk and many others. Different rates shall be applicable upon the dance style, age group and prior knowledge of the trainee.