We are the premier Bollywood Dance Classes in Delhi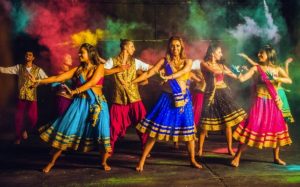 'Bollywood dance' is a fusion style popularized by the Bollywood film industry. The term 'Bollywood' is a combination of its location (Bombay, now Mumbai) and a reference to Hollywood (its Western counterpart).
Aeroyoga is the best Bollywood dance classes in Delhi. Bollywood fusion draws its form from the genres of dance fused with other modern styles of dance movements. Its origins lie in Bhangra, a Punjabi folk dance, and several classical styles: Kathak, Odissi, and Bharatnatyam. More recently, Bollywood dance classes have incorporated elements of the street, hip-hop, jazz, and other commercial styles.
Millions of people across the world watch Bollywood movies and are inspired to dance & enjoy this culture-rich art form. At Aeroyoga, you will learn Bollywood dance from expert choreographer because we are prime Bollywood dance classes in Delhi.
Our mission at Aeroyoga is to spread awareness of Bollywood dance in Delhi, through performance & participation. Our Bollywood dance classes are open to all ages from children through to teenagers and adults, providing a fun and exciting workout as well as dance skill & technique.
Whether you've grown up around Bollywood movies or simply have the curiosity to learn more, you'll surely find what you're looking for at The Aeroyoga! Because we are the leading Bollywood dance classes in Delhi. With Aeroyoga team, you will learn unique choreography, quality teaching, and passion for the art. With our constant display of vibrant, outstanding and breathtaking dance routines combining different dance styles we give the students a sensational experience of Aeroyoga's versatility.
Whatever your dreams may be either learning dance professionally, keeping fit, having fun or making new dance friends, make them come true at Aeroyoga. Come and enjoy the true essence of the art and learn to become a top dancer at Aeroyoga. Don't wait, come to our dance and fitness studio to learn Bollywood dance from the best choreographers.