We Are The Leading Chhau Dance Classes in Delhi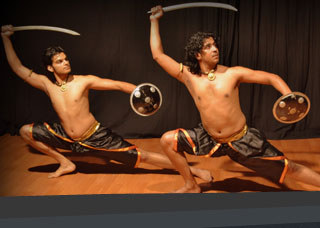 Aeroyoga, an institute devoted to dance. Here you will learn and perform various types of Indian dance forms. Aeroyoga is the prime chhau dance classes in Delhi. Chhau is a semi-classical dance form of India. Its origin is traceable to indigenous forms of dance and martial practices.
Its vocabulary of movement includes mock combat techniques, stylized gaits of birds and animals and movements modelled on the chores of village housewives. This type of dance breaks the stylized structures and forms of the classical dance and adopts a more contemporary feel and steps. All along the ethos of the basic dance remains intact.
At Aeroyoga, we train to make you fit and fine through chhau dance because we are the best chhau dance classes in Delhi. Chhau dance, as a semi-classical Indian dance with martial, tribal and folk origins. With origins in the eastern Indian states of Jharkhand, West Bengal, and Odisha. Chhau is an ancient dance form.
It originated in the mock fights of the Oriya Paikas (warriors) who fought rhythmically to the accompaniment of indigenous musical instruments.  It is found in three styles named after the location where they are performed, i.e. the Purulia Chhau of Bengal, the Seraikella Chhau of Jharkhand, and the Mayurbhanj Chhau of Odisha.
In our dance studio, we mainly teach "Mayurbhaanj Chhau". Mayurbhanj Chhau dance form has a long history. Originally a tribal dance, which originated from the forests of Mayurbhanj in the 18th century, it got the status of a martial art form in the 19th century.
Slowly & steadily Mayurbhanj Chhau left its martial character and mellowed. Under the Royal Patronage, it received proper attention & direction and showed a bright future and utmost perfection as a dance of excellent style in the field of eastern art and culture of India. Mayurbhanj Chhau has highly evolved techniques of its own for which it differentiates itself from other forms of dance.
These techniques of Mayurbhanj Chhau are based on various body movements. The dance ranges from celebrating martial arts, acrobatics and athletics performed in festive themes of folk dance, to a structured dance with religious themes found in Shaivism, Shaktism, and Vaishnavism.
If you really want to learn this energetic dance form, call now.