We are the Foremost Contemporary Dance Classes in Delhi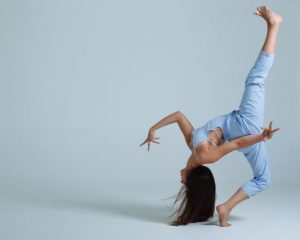 Aeroyoga is the best contemporary dance classes in Delhi. Contemporary dance is a style of expressive dance that combines elements of several dance genres including modern, jazz, lyrical and classical ballet. Contemporary dancers strive to connect the mind and the body through fluid dance movements.
Contemporary dance is an expressive style of dance that abandons the rigid, central aspect of classical forms of dance, and utilizes unconventional movements from styles around the world. It incorporates certain elements of ballet, modern dance, and jazz.
Aeroyoga -the prime contemporary classes in Delhi, will train you and make you the professional contemporary dancer. Contemporary dance emerged in the 1950s as dancers reacted against the rigid constraints of ballet technique.
Seeking to move with ease and fluidity, dancers began to experiment with manipulating their cores — a thought unheard of in classical ballet schools, which taught students to maintain a rigid, upright core throughout dancing. Because of its versatility, contemporary dance is used in a variety of performance mediums throughout the world. Some identifying elements of contemporary, that we teach in our class  include:
Abstract: The emphasis is on movement rather than narrative.

Unpredictability: Dancers often use contrasting rhythms, directions, and postures.

Breath: In many forms of contemporary and modern dance, performers use breathing as a central part of their dancing.

Floor work: Many contemporary students learn that the floor is their first partner.

Non-standard movement: There isn't a set of contemporary dance vocabulary, so performers are free to experiment and create new movements and positions.
Today's contemporary dance is an eclectic mix of styles, with choreographers drawing from ballet, modern, and "post-modern" (structure-less) forms of dance. While some contemporary dancers create characters, theatrical events, or stories, others perform entirely new creations as they improvise in their own unique style. Aeroyoga– the leading contemporary dance classes in Delhi, will teach you the real contemporary dance.