Energize

Your Workforce With Aeroyoga's Corporate Dance Workshops in Delhi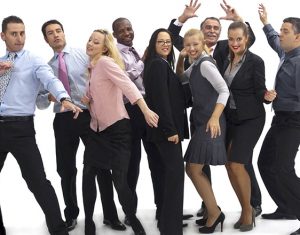 Aeroyoga provides the leading corporate dance workshops in Delhi. If you're looking for a unique team building activity that's guaranteed to be a hit with any taste or personality then look no further than Aeroyoga's corporate dance lessons, workshops, and events. From one-hour icebreakers to club classics dance parties, we provide unforgettable and invaluable experiences for a range of businesses. 
Why Dance With Aeroyoga?
Whether you're passionate about employee well being, are looking to reduce absence figures, trying to increase productivity or just want to create a great place to work; the many physical, mental, social and creative benefits of dancing make it the perfect team building activity. Everyone can dance from the bottom to the top of your company. It will improve your working culture, teamwork, and bonding between employees.
Aeroyoga gives the best corporate dance workshops in Delhi, endeavour to provide the best incorporate dance activities, from team building sessions to mass participation events. We give our corporate clients a bespoke experience by giving them the freedom to choose the theme, music, and content that matches their business' goals and employee's needs. We have a team of passionate contemporary dancers raring to help you set up and deliver your perfect corporate event. Aeroyoga's Carousel Of Corporate Dance Lessons, Workshops, And Events
Our one-off icebreaker sessions are designed to give your team a boost in energy, activate creative thinking and initiate collaboration. Our icebreaker sessions can last up to one hour making them an ideal way to kick off or break up a conference, workshop or team day.
Is your team running on reserves? Try our part-time package, a half-day dance experience. Choose to focus on anything from team building to learning a show-stopping routine to increase confidence and let inhibitions go.
The longer you have Aeroyoga the better! Hire our team of dancers for a whole day or for a series of sessions. You could decide to go for an all-day dance party or opt for creating a routine to perform at a later date. Many companies also choose a full time to lead into the culmination of an Aeroyoga night shift.
Tasked with organizing a social gathering for your department or the annual staff event? Make it a night to remember with Aeroyoga's night shift. Party to a bespoke or themed playlist from the Aeroyoga Jukebox, learn a few moves or a whole routine. You could even go full time with Aeroyoga and prepare a secret performance for your Aeroyoga night shift.
Aeroyoga dance lessons, workshops, and events in our corporate carousel can be combined and complement each other very well. So why not do some dancing overtime? Aeroyoga overtime discounts are available for bookings of 2 or more. Your Dance Party Starts Here!
Aeroyoga is the prime corporate dance and fitness studio in Delhi, offer all type of corporate dance workshops in Delhi. Whether you want to inquire about corporate dance lessons, organize a special event or just stay in the know, leave your details here and we'll get back to you.