Learn Yoga From The  Foremost Yoga Classes in Delhi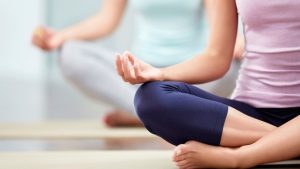 When it comes to Yoga, Aeroyoga is the foremost Yoga classes in Delhi. We provide online and offline Yoga sessions. We deliver live online yoga classes in Delhi. Yoga is a group of physical, mental, and spiritual practices or disciplines that originated in ancient India. We believe that Yoga is a way of life and not merely a set of physical postures as is generally understood.
As leading yoga classes in Delhi, we believe that the simple philosophy behind the yoga techniques should be applied to improve our day-to-day lives. The body affects the mind and the mind also affects the body. At Aeroyoga, we teach our students to balance body and mind with the help of diet, exercise, attitude-building, recreation, and the cultivation of a positive outlook.
A calm, steady, and focused mind—a quality often overlooked by those who treat yoga as merely physical exercise—is a vital tool to help glide smoothly over the ups and downs of life. In fact, it is this that the yogi truly seeks and asanas are only a means to this end. In yoga, we give training in Meditation (Dhyan), Pranayama, Asana, etc.
At Aeroyoga-the prime yoga classes in Delhi, we are committed to helping those who wish to help themselves become healthier and happier individuals. Whether you have been practicing Yoga for years or want to try it for the first time, we have highly skilled and dedicated teachers at Aeroyoga to offer a wide range of beginner and specialist courses.
We provide Yoga classes, for an individual, groups, & corporates. We have a yoga course that prepares you not only at the body level but also helps to attain spiritual evolution. So if want to stay fit and healthy through Yoga, then join Aeroyoga-Best yoga classes in Delhi. With our yoga courses, you will stay positive and happy.
You feel positivity not only on the bodily level but also on the level of mind and soul. We as foremost yoga classes in Delhi committed to giving you high-quality and certified yoga training through our certified yoga instructors.