We Are Leading Zumba Classes in Delhi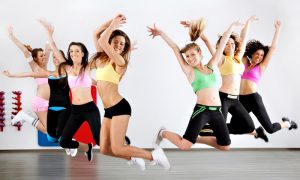 Aeroyoga provides the best Zumba classes in Delhi. Zumba dance classes are all the rage, a relatively young dance style. Zumba classes use Latin American dance movements creating a fun, high energy workout.
Zumba started the dance fitness revolution. This form of dance is effectively a crossover style incorporating aerobics with dance styles and techniques. Zumba classes are typically about an hour long. Choreography incorporates hip-hop, soca, samba, salsa, merengue and mambo with aerobic workouts.
Zumba workouts mix dance derived from Latin music with step aerobics. It has proved to be an excellent way to lose weight and get into shape. Ideal for people not interested in running or going to the gym, Zumba dance classes are fun and more like a night out than exercise! People of all ages can take up Zumba classes and workouts.
As the best Zumba classes in Delhi, Aeroyoga's Zumba dance instructors will teach you the latest and high energy Zumba moves.   There are even classes for children aged between 7-12 as well as adult Zumba dance classes. Whether you're a beginner, intermediate or advanced you will get training at Aeroyoga.
Types Of Zumba Classes
There are different types of Zumba classes aimed at different ages, fitness levels of and levels of exertion. At Aeroyoga, we have different types of Zumba classes in Delhi for all age group.
Traditional Zumba class includes basic rhythms like merengue, foxtrot, salsa, cumbia, reggaeton, belly dance, waltz, flamenco, tango, and samba. Zumba Step is a lower-body workout that incorporates Zumba routines and step aerobics.
Zumba Toning is for the people who do their workouts with toning sticks. Zumba Toning targets abs, thighs, arms, and other muscles throughout the body providing participants with a cardio workout.
It blends body-sculpting techniques and specific Zumba moves focusing on calorie-burning and strength-training. Instructors use weighted, maraca-like Zumba Toning Sticks to enhance rhythm and build strength.
Zumba Gold classes is a workout designed for older adults and address the anatomical, physiological and psychological needs.
The original workout program is designed specifically for girls and boys ages 7–12 and incorporates urban dance styles like hip-hop, reggaeton and pop with design to develop coordination, discipline, confidence, and teamwork.
If you want to learn best Zumba from best faculty, then come to Aeroyoga- the prime Zumba classes in Delhi.